-25%* sur les Kits Monarch, toutes les Enzymes de Restriction NEB et plus encore… Cliquez ici pour plus d'informations !
* Offre valable jusqu'au 31/12/2017 sur une sélection de produits NEB sur indication du code promotionnel « CLONING17 » et pour un minimum de 350€ HT de commande des produits concernés par l'offre (somme sur le tarif catalogue). La remise est non cumulable avec d'autres remises ou tarifs spéciaux et non applicable aux programmes Freezer de NEB.
It's time to transform your DNA purification experience.
NEB's Monarch Nucleic Acid Purification Kits are optimized for maximum performance and minimal environmental impact. Our unique thin-walled column design uses less plastic, prevents buffer retention, eliminates the risk of carryover contamination, and enables elution in smaller volumes.
The result:
high performing DNA purification for your downstream applications.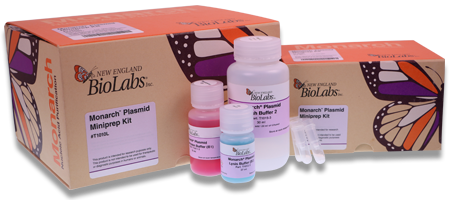 Time for change – Try Monarch for free
As long as stock lasts, try one of our Monarch Nucleic Acid Purification Kits
Plus d'informations disponibles dans la section Ressources Techniques ou sur neb.com