Tell us about your eco-responsible efforts!
Environmental stewardship: one of the founding principles of NEB!
Since its foundation in 1974, New England Biolabs promotes ecological practices and environmental sustainability. NEB ensures the protection and preservation of natural resources, both locally and globally. In this regard, in 1975 the first NEB catalog was printed using 100% recycled paper, reflecting NEB's belief that the pursuit of science should not negatively impact the environment.
Concretely, how can we reduce our impact on the environment?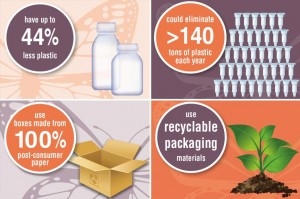 Monarch, designed with sustainability in mind
We know that it can be difficult to be environmentally friendly in the lab, where sterility and convenience are of utmost importance. At times, it may seem that sustainability and benchwork are at odds with each other. Although we can't completely solve this problem, we can make changes to our product design to help move toward the goal of a greener lab, and that's exactly what we did with the design of our Monarch Nucleic Acid Purification Kits.
 
💡 Use up to 44% less plastic.
💡Columns have thinner walls, reducing total plastic usage without affecting performance.
💡 All components were purposefully sourced to ensure their recyclability.
💡 Boxes were designed to be sturdy for reuse.
💡 Kit boxes, inserts, and protocol cards are made from recycled paper.
💡 All printing on the boxes and protocol cards was done with soy and water based inks.
In addition to these concrete actions, NEB supports LabConscious, an open community for researchers to share their ideas on how to reduce the environmental footprint of bench science. Find all their Green Lab Tips HERE!
Describe us in a few lines, images or videos, actions implemented within your organization for the protection and preservation of the environment!
For each participation, NEB will give a 10€ donation for the local Association Terre d'Avenir. 
The most impactful actions will be will be listed below.
*Limited to 50 participations, until the 30/04/2021. By submitting, you accept to be visible on our website and our social media. 
Subscribe to our newsletter to receive all the latest news on our new products, special offers or educational resources straight to your inbox!
Donation of 500 € for the benefit of the ATA Association
Following its commitment recalled above, NEB France gave a donation of 500 euros on 06/07/2021 for the benefit of the Association Terre d'Avenir, based in Essonne.
Below are some of the highlighted actions of the participants:
The biological insulators from the NEB packages are composted as dry matter in the 240-liter collective composter in the shared garden of the INRAE ​​institute.
EcoCell is implementing measures to generate less waste or to improve its recycling, in particular for plastic which is too often used in laboratories.