Our Environmental Commitment!
Environmental stewardship is one of the founding principles of NEB.  By promoting sound ecological practices and environmental sustainability, NEB ensures the protection and preservation of natural resources, both locally and globally.  We continuously strive for improvement in our business processes in order to minimize and, where possible, mitigate our impact on the environment.  Raising awareness of our duty to the environment is paramount to NEB's corporate message. As an additional measure of their commitment, NEB has received ISO 14001 certification, a quality standard for environmental management systems.
Monarch® Nucleic Acid Purification Kits – Designed with sustainability in mind
Eco-friendly & compostable shipping boxes!
We are gradually converting our shipping logistics for frozen and refrigerated goods for you: Instead of the usual polystyrene ("styrofoam") insulation boxes, we now use sustainable and environmentally friendly shipping boxes with straw insulation, which require 50 times less energy in production.
This new, environmentally friendly insulated box meets the strictest criteria for reliable and sustainable shipping:

It's really a good thing to use straw boxes instead of polystyrene ! Well done NEB!
We have to support great
approaches like this.
I return to you to thank you for your ecological efforts. The new packaging was well appreciated by our team.
Well done NEB!
I would like to thank you for your initiative to replace the polystyrene containers with cardboards filled with straw! I told all my colleagues about it 🙂
I wanted to thank you for this new ecological packaging. I greatly appreciate the gesture and I hope that other suppliers will follow your example!
We are delighted to have received your newly created packages with straw! It is of organic quality & we can reuse it for our plants. Thank you!
I would like to say that I am very pleasantly surprised by the ecological efforts made by NEB to protect this shipment.
Thank you!
Download our shipping policy!
100% recyclable and CO2
climate neutral
At New England Biolabs we send our customer magazine "NEB Expressions", our catalogues or other special prints and brochures in protective "Green PE" foil – if possible bundled with several printed materials in one delivery.
The Green PE foil used is 100% recyclable and CO2 climate neutral, as it is not generated from fossil resources, but exclusively from renewable raw materials such as sugar and starch. Green PE is the only "eco-film" approved for shipping by Deutsche Post. If the Green PE foil is not recycled, it is completely decomposed into water and CO2 when thermally recycled.
What are the differences?
Bioplastics are a group of different plastics with very different properties. However, they must always meet at least one of two "bio" criteria.
Biobased
Biobased means that at least part of the plastic consists of renewable, i.e. vegetable raw materials, e.g. sugar, starch, oils, cellulose, etc.
Biodegradable
Biodegradable means that the plastic can be degraded by naturally occurring microorganisms. This produces water, CO2 and a small amount of biomass. Bio-based plastics can be biodegradable, but do not have to be.
Bioplastics:
Green PE foils (used by NEB) are bio-based and 100% recyclable, but not biodegradable. The raw material used is chemically identical to standard PE quality and therefore provides identical mechanical properties. However, since the raw material used for the production of the raw material is non-fossil (no crude oil), but bio-based and renewable (sugar, starch, cellulose…), Green PE film is much more sustainable than conventionally produced PE films. When used thermally, Green PE breaks down into water and CO2 without further residues.
Biodegradable foils 
are bio-based and completely biodegradable under industrial composting conditions. The raw material used is PLA. The mechanical properties of biodegradable films are worse than those of PE or Green PE films. The modified raw material also gives the film an unmistakable optical and haptic "biofeeling". For many applications, e.g. garbage bags, etc., the properties are absolutely sufficient, but not for use in postal dispatch.
Oxo-degradable is not "bio".
Oxo-degradable or oxo-degradable plastics are often wrongly referred to as bioplastics. But they are anything but "bio". Materials such as cobalt, manganese or iron are added to these plastics. Under the influence of UV light, heat and oxygen, the polymer chains are dissolved and the material decomposes into minute particles. In contrast to biodegradable plastics, however, there is no complete decomposition of the plastic by microorganisms. Although the plastic is no longer visible to the eye, it is still present and represents a major problem in our ecosystem in the form of microplastics. It is also foreseeable that oxo-degradable films will be banned in the EU due to their negative properties.
Hydropower for the habitat of mountain gorillas
NEB supports conservation and reforestation initiatives.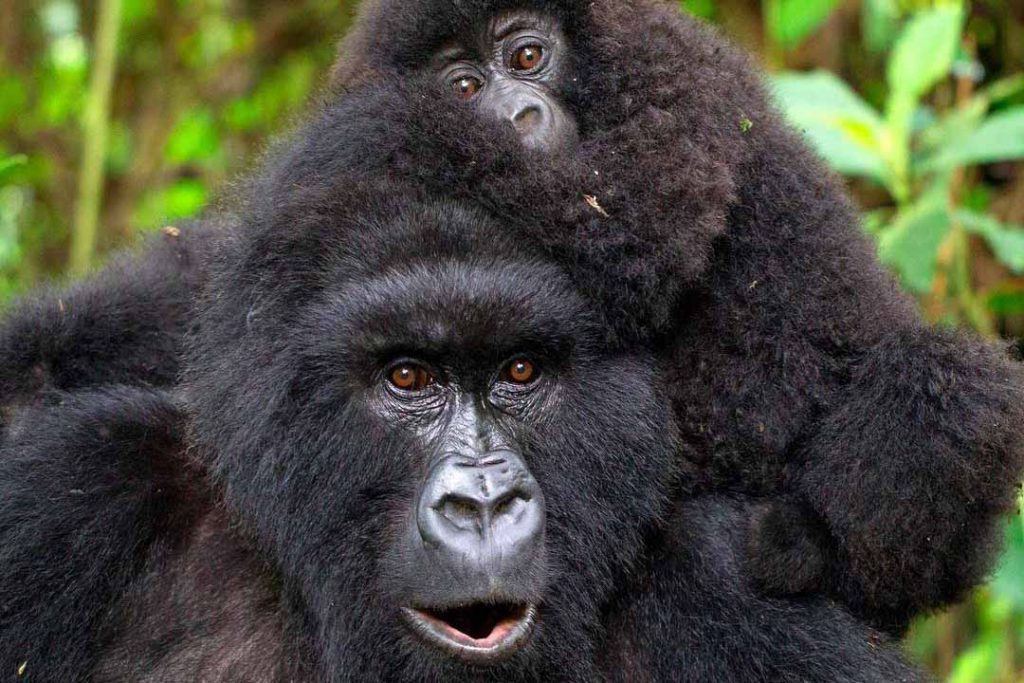 For many years we at NEB have been focusing on CO2-neutral print production for all our catalogues, brochures, customer magazines, posters, cards etc.. With the help of our partner company "Climate Partner", we have calculated all CO2 emissions that are unavoidable in the process chain and offset them through recognized and certified climate protection projects.
Example: Production NEB Catalog & Technical Reference 2021/22.
Project 1072: Virunga National Park is home to one third of the last mountain gorillas still alive in the world. Six hundred rangers protect the area from armed militia, who exploit the natural resources, animals and, above all, wood for the charcoal trade for their own financial gain. This illegal exploitation is a million-dollar business and finances a cruel civil war. In the past 20 years, more than 160 park rangers lost their lives. The charcoal made illegaly from trees in the Virunga Park is the only source of energy for many: 97 percent of the local population have no access to electricity. If there is no alternative to charcoal, the forest will be completely deforested in ten years' time. 
This is why this carbon offset project was developed by our partner "Climate Partner": a small run-of-river hydropower plant with a capacity of 13.6 MW. In the meantime, 5,000 households and many new small businesses have been connected to the local power grid. The project lays the foundation for economic development and subsequently for more stability and peace in the region.
For more details, please click here: http://www.climatepartner.com/1072